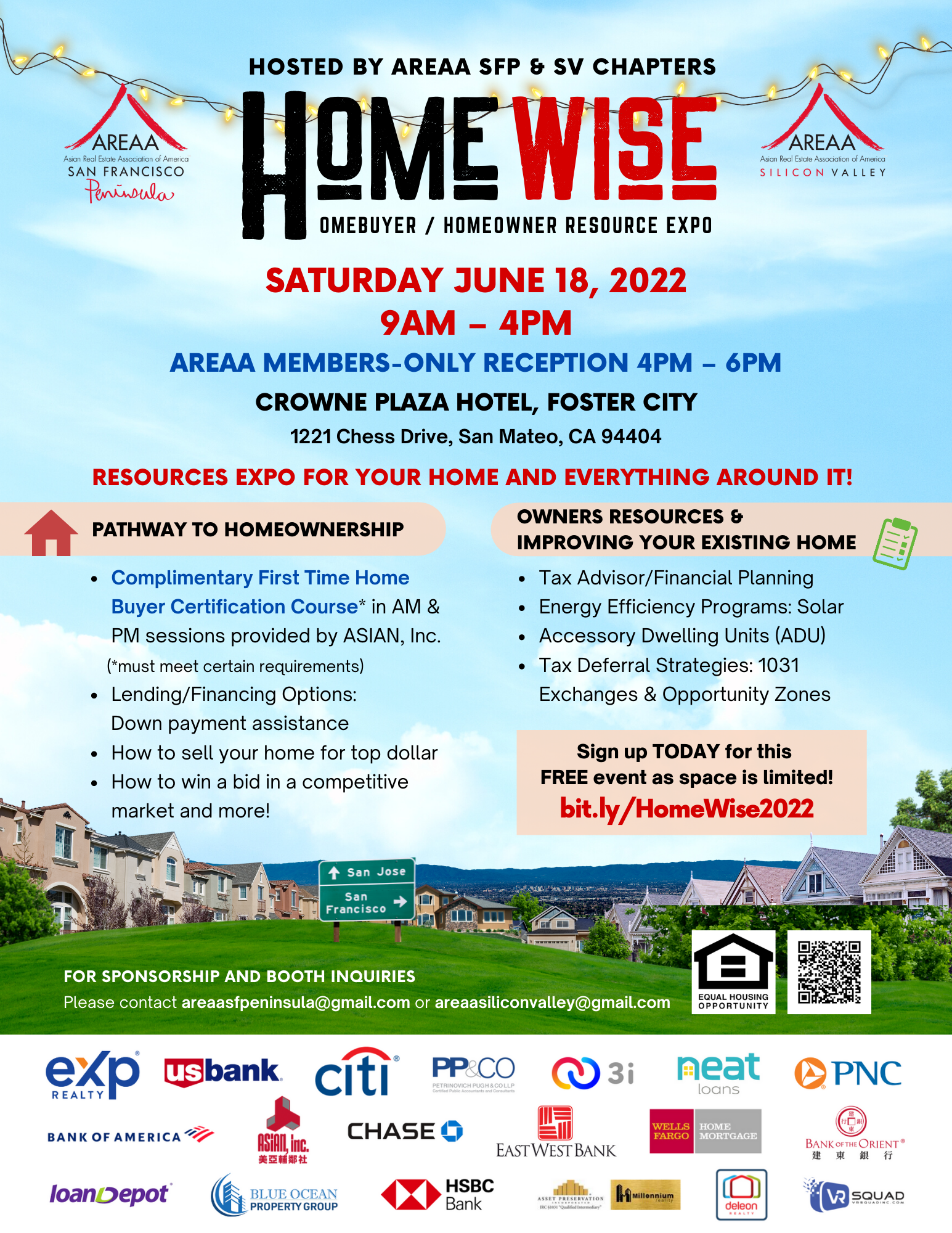 Description
At this expo, we provide resources and education to homebuyers and homeowners and showcase everything one needs to know (or should know) about homeownership. We have partnered with ASIAN, Inc., a non-profit technical assistance and research organization, to educate homebuyers in the home purchase and financing arenas. We will showcase a few consumer facing workshops, and will cover various topics for your home and everything surrounding a home.
Please come join us for this fun filled day!
MARKETPLACE 9:00AM - 4:00PM
There will be over 40 different exhibitors with free giveaways, education and booths to visit.
BREAKOUT ROOM 1- FIRST TIME HOMEBUYER CERTIFICATION COURSE
This 2-hour Pre-Purchase Homeownership Education Program is provided by Asian Inc. whom is a HUD approved Local Housing Counseling Agency. Morning session starts at 9:30AM and afternoon session at 1:30PM. Attendees must meet certain requirements in order to receive a certification.
BREAKOUT ROOM 2 - CONSUMER FACING WORKSHOP
9:30AM - 10:30AM Building Wealth Through Real Estate
Home Improvement ideas
Accessing equity to invest
Protecting your wealth
10:45AM - 11:30AM How to win in a Competitive Market
1:30PM - 2:45PM What is your Financing Option?
Lender Panel
Financing Options
Home Buying Assistance Programs
Alternative Lending
3:00PM - 3:30PM Closing Session
4:00PM - 6:00PM Mix & Mingle Reception (AREAA Members Only)
*Above agenda is subject to change.
Questions or sponsorship inquiries?
Please contact areaasfpeninsula@gmail.com or areaasiliconvalley@gmail.com for more information.
See you on 6/18!
=========================================
Event Organizers:
About AREAA:
AREAA is dedicated to promoting sustainable homeownership opportunities in Asian American communities by creating a powerful national voice for housing and real estate professionals that serve this dynamic market.
Our members and our partners enable us to carry out our vision and mission to represent the AAPI community in our advocacy for greater homeownership access for all. Through your support, we are able to provide national events where we are able to educate and develop our membership and the larger real estate industry at large. We believe that events such as ours are vital to developing successful AAPI leaders in the brokerage, lending, banking, and real estate industries. With greater leadership and success in these industries, AAPI representation grows.
Join AREAA Membership Today!
Registration Info
Date

Jun 18, 2022

Time

9AM - 4PM

Location Crowne Plaza - Foster City Hotel Foster City, CA 94404 USA