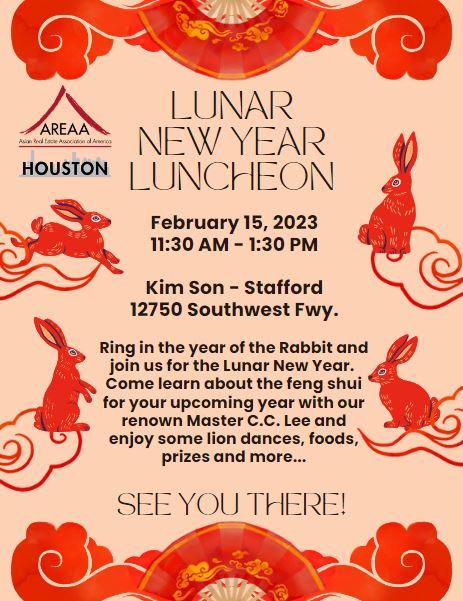 Lunar New Year Celebration Luncheon
February 15, 2023 | 11:30 AM to 1:30 PM
Ring in the year of hte Rabbit and join us for the Lunar New Year. Come learn about the feng shui for your upcoming year with our renown Master C.C. Lee and enjoy some lion dances, foods, prizes and more...
Read More Details
Who We Are
The Asian Real Estate Association of America (AREAA) is a nonprofit professional trade organization dedicated to promoting sustainable homeownership opportunities in Asian American and Pacific Islander (AAPI) communities by creating a powerful national voice for housing and real estate professionals that serve this dynamic market.
Membership Benefits
With over 17,000 members in 45 chapters across the US and Canada, AREAA is the largest Asian American and Pacific Islander (AAPI) trade organization in North America. As a member, you'll receive discounted pricing to all AREAA events, FREE webinar training to help fine-tune your skill sets, and be kept informed on news and issues within the AAPI communities. The benefits don't stop there; below are more reasons as to why it pays to be an AREAA Member.