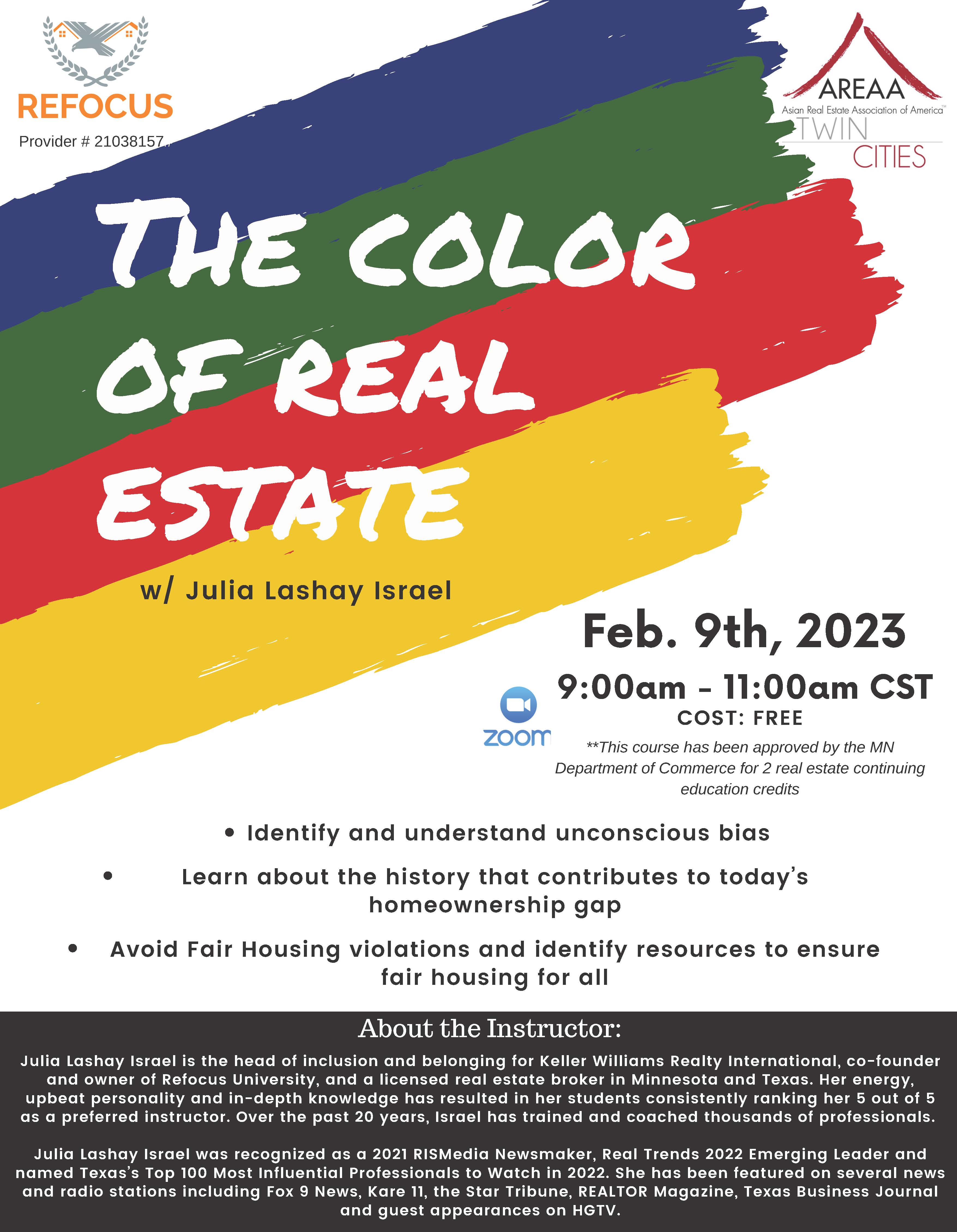 Description

*********** FREE CE CLASS *************

The Color of Real Estate takes an in-depth look at unconscious bias in real estate and the history of government policies and practices that has contributed to today's homeownership gap. Discover our role as REALTORS and learn to implement diverse business strategies.
**This class is presented via Zoom. Video participation is required to receive credit.
About the instructor:
Julia Lashay (Israel) is a licensed real estate broker in Minnesota, Wisconsin & Texas. Over the past 20 years she has trained and coached thousands of real estate professionals.
Julia is a founding member and Past-President of the Twin Cities National Association of Real Estate Brokers (NAREB) and serves on numerous real estate boards and diversity committees. She is currently the NTNMM (North Texas, New Mexico, Memphis) regional ambassador for the Keller Williams Realty Social Equality task force & Director of Training + Coaching at the KW Central 75 Market Center.
Julia uses her experience as a community leader and homeownership advocate to speak nationally and teach content from several of the courses she has authored on career development, diversity and homeownership. Her energy, upbeat personality and in-depth knowledge has resulted in her students consistently ranking her 5 out of 5 as a preferred instructor.
**This course has been approved by the Minnesota Commissioner of Commerce for 2.0 hours of real Estate Continuing Education.

https://www.eventbrite.com/e/the-color-of-real-estate-for-areaa-tickets-476893259577


Registration Info
Date

Feb 09, 2023

Time

9:00 am

Location Virtual